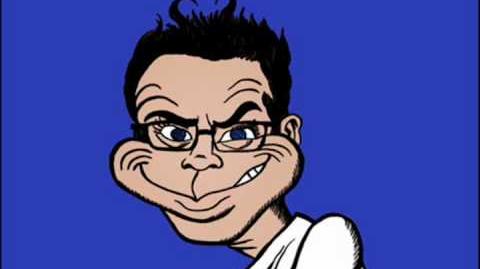 You're a Mean One, Mr. Nerd
is a song sung by
Bear McCreary
. It appeared in
How the Nerd Stole Christmas
.
Lyrics
You're a mean one, Mr. Nerd
You really are a jerk
You're shameless as a shit mop
You got mischief in your smirk, Mr. Nerd!
I wouldn't blame ya, when you're playin' Atari Berzerk!

You're a vile one, Mr. Nerd
You've got demons in your soul
You're wacky and you're wicked
But your crap is full of coal, Mr. Nerd!
You're as charming and fun as a grizzly bear with a gun

You're a foul one, Mr. Nerd
You're a dreadful, drunken SCHMUCK!
Your mouth is full of cusses
Your mind is full of yuck, Mr. Nerd
The three words that best describe you are, and I quote: "Fick, fack, FUCK!"
Ad blocker interference detected!
Wikia is a free-to-use site that makes money from advertising. We have a modified experience for viewers using ad blockers

Wikia is not accessible if you've made further modifications. Remove the custom ad blocker rule(s) and the page will load as expected.