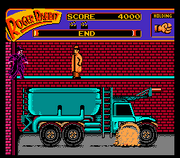 Who Framed Roger Rabbit
is a 1988 video game by LJN for the
NES
. It was based off the 
film of the same name.
AVGN episode
The fourth episode, was released on April 24, 2006 and it was the second video to be uploaded straight to YouTube. This is when Rolfe and Matei uploaded the first four videos to YouTube; where the show started gaining popularity. The Nerd also revisits the game four years later in the episode Back to the Future Re-Revisited.
The closing line, "I want to nail Roger Rabbit to the fucking cross" was considered the Nerd's best moment of 2006.
The line, "Why is the password so long?" was shown from the full intro theme originated from this episode.
For the transcript, See Transcript of AVGN episode Roger Rabbit.
Ad blocker interference detected!
Wikia is a free-to-use site that makes money from advertising. We have a modified experience for viewers using ad blockers

Wikia is not accessible if you've made further modifications. Remove the custom ad blocker rule(s) and the page will load as expected.