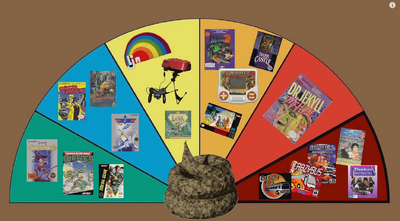 The Shit Scale was designed by the Nerd to more accurately measure the "shittiness" of a game. It was created in his review of Darkwing Duck for the TurboGrafx-16 (but was informally mentioned in his CrazyBus review).

| Category | Color | Nerd's Description | Game Examples |
| --- | --- | --- | --- |
| Games That Are Debatably Bad | Green | "Somewhat good games with serious flaws. Not part of the turd crust, but well within smell range." | Metal Gear, Teenage Mutant Ninja Turtles, Castlevania 2: Simon's Quest |
| High Level of Shit Contamination | Blue | "Games that are possible to play, but nobody in their right mind would." | Dick Tracy, Super Pitfall, Top Gun |
| Very High | Yellow | "This is where you could still survive, but you'd come out traumatized... for life." | "The majority of LJN games", Virtual Boy, Link: The Faces of Evil, Darkwing Duck |
| The Severe Zone | Orange | "This is for masochists only. These are games that could kill a person. Stay away, don't even think about it." | Action 52, Dark Castle, The Wizard of Oz (video game), Tiger handheld games |
| Dr. Jekyll and Mr. Hyde | Red | "Enough said." | Dr. Jekyll and Mr. Hyde |
| MAJOR CODE RED: Games that don't even qualify as games at all. | Crimson | "They shouldn't even be on the scale, but they are. And that's so you know to beware: never play them, never talk about them." | Desert Bus, CrazyBus, Big Rigs: Over The Road Racing, Hong Kong 97, Plumbers Don't Wear Ties |
Ad blocker interference detected!
Wikia is a free-to-use site that makes money from advertising. We have a modified experience for viewers using ad blockers

Wikia is not accessible if you've made further modifications. Remove the custom ad blocker rule(s) and the page will load as expected.