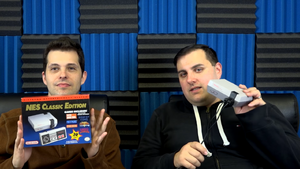 Talk About Games is a Cinemassacre webseries with Mike Matei and his friend Ryan Schott, the web designer for Cinemassacre.com. The series features them making non-scripted commentary about video games. In contrast to the traditional Cinemassacre focus of retro console gaming, Talk About Games is about newer games, some of them indie. Many of the episodes feature Windows PC games, and to a lesser extent eighth-generation video game consoles such as the PlayStation 4 and Wii U.
The series originated as a one-off video of "Plants vs. Zombies: Garden Warfare" in late 2014, with Mike stating that he and Ryan were trying out a new thing and would be "talking about some games", which became the series' official title with the "Axiom Verge" episode. The series started off in a let's play/review hybrid format. From April 2015 to May 2016, episodes were released semi-frequently, but without a consistent upload schedule.
Starting with "DOOM" in June 2016, the series transitioned away from let's plays into a straight-up review show. Episodes also became more frequent, airing roughly once a week. With "Worms W.M.D." in August of that year, the series settled into a schedule of a new episode every Friday. Little over a month later, the two of them started up another series, titled Mike & Ryan. For the remainder of 2016, Talk About Games and Mike & Ryan alternated with each other, with every Friday seeing the release of a new episode of one show or the other.
The "Batman: Arkham VR" and "Clockwork Empires" episodes of Talk About Games featured them playing through the games instead of simply reviewing them, similar to the early episodes. However, the show ultimately changed format again, becoming a discussion show about current gaming news and topics, and various console reviews, rather than focusing on specific games. The show still alternates with Mike & Ryan, but on Saturdays now instead of Fridays.
Episodes
2015
#
Name
Release date
1
Axiom Verge (PS4)
April 11
2
Shovel Knight BATTLETOADS (Xbox One)
April 30
3
Toren (PC, PS4)
May 14
4
Lakeview Cabin Collection (PC)
June 3 (YT)
June 4 (CM)
5
Farm Simulator 15
July 7
6
Guild of Dungeoneering (PC)
July 10
7
Ronin (PC)
July 16
8
Layers of Fear Early Access Gameplay (PC)
September 15
9
Guitar Hero Live (PS4)
September 18 (YT)
10
Transformers Devastation
September 30
11
Prison Architect
October 10
12
Dungeon Defenders II
October 14
13
Shadow Complex (PC)
December 30 (YT)
December 31 (CM)
2016
#
Name
Release date
Notes
14
Guns Gore & Cannoli (PS4)
February 27
15
Stardew Valley (PC)
March 11
Edited down from Mike & Ryan's live stream.
16
Overwatch (PC)
March 29
17
Slain! (PC)
April 6 (YT)
April 7 (CM)
18
Heads Up! (Mobile)
May 11
19
DOOM 2016 (PC)
June 7
20
Teenage Mutant Ninja Turtles: Mutants in Manhattan (PC)
June 13
21
Dead by Daylight Beta (PC)
June 15 (YT)
June 16 (CM)
22
Warcraft: Orcs & Humans (PC)
June 22 (YT)
June 23 (CM)
23
Pokémon GO - Episode 1 (Mobile)
July 14
24
Pokémon GO - Episode 2: Philadelphia (Mobile)
July 21
25
Space Run Galaxy (PC)
July 27
26
We Happy Few - Beta (PC)
August 2
27
Hyper Light Drifter (PC)
August 15 (YT)
August 16 (CM)
28
Savage Resurrection (PC)
August 18
29
Worms W.M.D. (PS4)
August 26 (YT)
August 28 (CM)
30
Star Trek 50th Anniversary Trivial Pursuit
September 2
First non-video game episode, instead featuring a card game.
31
Star Trek: 25th Anniversary (PC)
September 8 (YT)
Released on Star Trek's 50th anniversary.
32
Attack on Titan (PS4)
September 9
33
Ori and the Blind Forest (Xbox One)
September 16
34
Nintendo Switch - Everything We Know
October 20 (YT)
October 21 (CM)
35
Batman: Arkham VR (PlayStation VR)
October 21 (YT)
October 22 (CM)
36
Clockwork Empires (PC)
October 28 (YT)
37
NES Classic Edition (aka NES Mini) Review
November 11
38
PS4 Pro - Is It Worth Buying? Does It Suck?
November 24
39
Nintendo Theme Park at Universal Studios
November 29 (CM)
November 30 (YT)
40
Ps4 vs Ps4 Pro - Comparison Test: Can you tell the difference?
December 9
2017
#
Name
Release date
Notes
41
Nintendo Switch Reveal
January 13
42
1-2 Switch Nintendo Gameplay Preview Event
February 18 (YT)
February 19 (CM)
43
Nintendo Direct Reaction 4.12.2017
April 12 (YT)
44
Sony PlayStation
May 27
45
Analogue Nt mini NES console Review
June 10 (YT)
June 11 (CM)
46
E3 2017 - Top 10 Announcements
June 14
47
SNES Classic Edition (aka Super NES mini) Announced by Nintendo
June 27 (YT)
June 28 (CM)
48
Nintendo Wii
July 8
49
Is Monetization Affecting Game Design?
July 29
50
Nintendo 64 (N64)
August 5
51
Top 10 Best Nintendo Achievements
August 12
52
Famicom Classic Mini
August 19
53
Deconstructing the RetroN 5
September 2 (YT)
54
Nintendo Direct September 2017
September 16 (YT)
55
SNES Classic Edition (aka SNES Mini) Review
September 29
The last episode uploaded to the Cinemassacre website.
56
Super Mario Odyssey Philadelphia launch event with Ryan
October 26
57
Xbox One X - Is It Worth Buying? Does It Suck?
November 14
58
Xbox One X - Comparison Test: Can you tell the difference?
November 18
Removed episodes
Name
Release date
Plants vs. Zombies: Garden Warfare
November 5, 2014 (CM)
Splatoon (Wii U)
June 23, 2015 (CM)
Batman: The Telltale Series (PS4)
August 3, 2016 (YT)
August 4, 2016 (CM)
Dead Rising Remastered (Xbox One)
September 23, 2016 (YT)
Trivia
The series was conceived out of Mike's desire to do more videos on modern games, as he had predominately been a retro gamer up to that point. Since Ryan enjoyed playing modern games a lot, Mike suggested to Ryan the idea of them doing videos together. Ryan did not initially want to do it, but Mike was eventually able to convince him. Mike explained this in a live stream he did of Super Mario Bros. 3, although the stream was later removed.