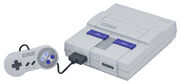 The Super Nintendo Entertainment System, or SNES, is a video game console made by Nintendo. Released on November 23, 1990, as the Super Famicom and later released in 1991 and 1992 under the name Super Nintendo. It is the successor to the Nintendo Entertainment System.
SNES games the Nerd has reviewed
Super Noah's Ark 3D
Shaq Fu
The Wizard of Oz
Batman Returns
Batman Forever
Bram Stoker's Dracula
Mary Shelly's Frankenstein
The Terminator
T2: The Arcade Game
Terminator 2: Judgement Day
Mario Is Missing!
Mario's Time Machine
Super Godzilla
Godzilla: Kaijuu Daikessen (Super Famicom game)
Wayne's World
Super Castlevania IV
Castlevania: Dracula X
Super Mario World (Game Glitches)
Super Back to the Future II (Super Famicom game)
Lester the Unlikely
Super Star Wars
Super Star Wars: The Empire Strikes Back
Super Star Wars: Return of the Jedi
Jurassic Park
Jurassic Park 2: The Chaos Continues
Home Improvement 
Pit Fighter
Spiderman and Venom: Maximum Carnage
Ad blocker interference detected!
Wikia is a free-to-use site that makes money from advertising. We have a modified experience for viewers using ad blockers

Wikia is not accessible if you've made further modifications. Remove the custom ad blocker rule(s) and the page will load as expected.