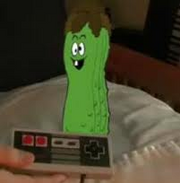 Shit Pickle is a character that appears in some episodes of The Angry Video Game Nerd. It's usually presented to highlight a very shitty game. His speech pattern consists of saying 'shit' and 'pickle' usually in preceding order.
Episodes that he appears in:
Edit
Master Chu and the Drunkard Hu (He helps commentate on the game, such as calling the graphics "shit.")
Action 52 (The nerd is playing the "Ooze" mini-game and sees a figure that looks like shit pickle, and a bunch of them pop out of the screen, scaring the nerd.)
Shit Pickle originally appeared in Cinemassacre's Wizard of Oz 3: Dorothy Goes to Hell.
His parents, as revealed in the Shit Pickle episodes, are Dick Pickle and Tit Pickle. (get it?)
Shit Pickle is hidden in every level in Angry Video Game Nerd Adventures. Once seen, he bounces and falls down the screen in which he can be only seen for a brief moment.