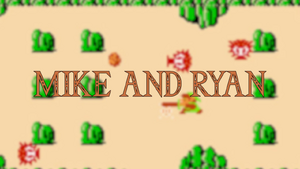 Mike & Ryan is a Cinemassacre webseries. It is the second series created by Mike Matei and Ryan Schott, following Talk About Games, and is closer in style to James & Mike Mondays and Mike & Bootsy. Opposite the modern focus of Talk About Games, Mike & Ryan was introduced as a retro-themed let's play series, though it has since expanded to cover newer games as well.
When Mike & Ryan first debuted in late 2016, episodes came out on occasional Fridays, alternating with Talk About Games. At the beginning of 2017, the upload schedule changed, with episodes of Mike & Ryan coming out on Saturdays instead of Fridays, and Talk About Games becoming less frequent, although the two shows still alternate with each other on the occasions when a new Talk About Games episode does appear.
Episodes
2016
#
Name
Release date
1
Castlevania (NES)
September 29 (YT)
October 1 (CM)
2
Castlevania: The Adventure ReBirth (WiiWare)
October 7
3
Shinobi II: The Silent Fury (Game Gear)
October 14
4
Rockin' Kats (NES)
November 4 (YT)
5
Chip 'n Dale Rescue Rangers (NES)
November 18
6
Super Mario Bros. 2 (NES)
December 2
7
Super Mario Run (Mobile)
December 16
8
Star Wars (NES)
December 23 (YT)
December 26 (CM)
9
Star Fox (SNES)
December 30
2017
#
Name
Release date
Notes
10
Super Double Dragon (SNES)
January 7
11
Castlevania: The Adventure (Game Boy)
January 14 (YT)
January 15 (CM)
12
Happy Room
January 21
13
Double Dragon IV (PS4)
February 3
Guest Star: James
14
Super Mario World (SNES)
February 11
15
DuckTales 2 (Game Boy)
February 25
16
Mighty Morphin Power Rangers (Game Gear)
March 4
17
Castlevania II: Belmont's Revenge (Game Boy)
March 11
18
Blaster Master Zero (Nintendo Switch)
March 25 (YT)
March 26 (CM)
19
River City Ransom: Underground (PC)
April 1 (YT)
April 3 (CM)
20
Batman Returns (SNES)
April 8
21
Teenage Mutant Ninja Turtles II: The Arcade Game (NES)
April 15
22
Chip 'n Dale Rescue Rangers 2 - The Disney Afternoon Collection
April 22 (YT)
April 23 (CM)
23
Scanner Sombre (PC/Steam)
April 29
24
Eagle Island (PC/Steam)
May 6
25
Mega Man (NES)
May 13
26
Star Trek (PC)
May 20 (YT)
27
TNT Amusements ARCADE
June 3
28
Star Fox 2 (SNES)
July 1 (YT)
July 2 (CM)
29
Stinger (NES)
July 15
30
The Adventures of Batman & Robin (SNES)
July 22 (YT)
31
Sonic Mania (Switch)
August 26 (YT)
August 27 (CM)
32
Mario + Rabbids Kingdom Battle (Switch)
September 9 (YT)
33
Metroid: Samus Returns (Nintendo 3DS)
September 23 (YT)
September 24 (CM)
34
Cuphead (Xbox One)
September 29 (YT)
35
Project Octopath Traveler (Switch)
October 7 (YT)
36
Grave Chase (PC)
October 15 (YT)
37
(Sponsored by Playonjump.com)
October 21 (YT)
Games Played: The End Is Nigh, Ittle Dew, Steel Rain, Super Win the Game, 8Bit Fiesta, Klocki
38
Super Mario Odyssey (Switch)
October 27 (YT)
39
Stranger Things: The Game (ios)
November 4 (YT)
40
The Mummy Demastered (PC)
November 11 (YT)
41
Sonic Forces (Xbox One)
November 25 (YT)
42
Little Medusa (NES)
December 2 (YT)
43
Dreadnought (PlayStation 4)
December 9 (YT)
Ad blocker interference detected!
Wikia is a free-to-use site that makes money from advertising. We have a modified experience for viewers using ad blockers

Wikia is not accessible if you've made further modifications. Remove the custom ad blocker rule(s) and the page will load as expected.