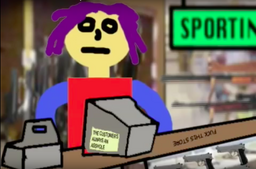 The K-Mart employee is a minor character who appears in Wizard of Oz 3: Dorothy Goes to Hell.
Overview
He appears to have a radical design with his purple hair, red shirt, blue sleeves, yellow face, and black outlines of his mouth and eyes (probably a reference to background characters from Aqua Teen Hunger Force).
He appears in the short where he is an unnamed cashier warning Scarecrow not to load a gun in the public, but he refused and kills himself. An employee thinks he is nuts.
Ad blocker interference detected!
Wikia is a free-to-use site that makes money from advertising. We have a modified experience for viewers using ad blockers

Wikia is not accessible if you've made further modifications. Remove the custom ad blocker rule(s) and the page will load as expected.