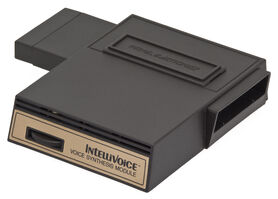 In 1982, Mattel introduced a new peripheral for the Intellivision: The Intellivoice, a voice synthesis device which produces speech when used with certain games. The Intellivoice was original in two respects: not only was this capability unique to the
Intellivision
system at the time (although a similar device was available for the Odyssey2, but the speech-supporting games written for Intellivoice actually made the speech an integral part of the gameplay.
Unfortunately, the amount of speech that could be compressed into a 4K or 8K ROM cartridge was limited, and the system did not sell as well as Mattel had hoped; while the initial orders were as high as 300,000 units for the Intellivoice module and its initial game-cartridge offerings, interest in future titles dropped rapidly until the fourth and last Intellivoice title, Tron: Solar Sailer, sold a mere 90,000 units. A fifth game, a children's title called Magic Carousel, was shelved, and in August 1983 the Intellivoice system was quietly phased out.
The four titles available for the Intellivoice system, in order of their release, were:
Space Spartans
Bomb Squad
B-17_Bomber
Tron: Solar Sailer*
The bold games were reviewed by the Nerd, but, no on Intellivoice. The games marked with asterisk (*) were not reviewed.by him.
A fifth title, Intellivision World Series Major League Baseball, developed as part of the Entertainment Computer System series, also supports the Intellivoice if both the ECS and Intellivoice are connected concurrently. Unlike the Intellivoice-specific games, however, World Series Major League Baseball is also playable without the Intellivoice module (but not without the ECS.)
A further homebrew title, Space Cunt, also uses the male Intellivoice sounds (especially on its main title screen). This game is a spin-off clone of Astrosmash, which uses graphics loaned from Utopia and the TRON game series.
Ad blocker interference detected!
Wikia is a free-to-use site that makes money from advertising. We have a modified experience for viewers using ad blockers

Wikia is not accessible if you've made further modifications. Remove the custom ad blocker rule(s) and the page will load as expected.