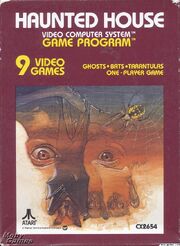 Haunted House is an
Atari 2600
video game, first released in 1982, in which the player (represented by a pair of eyes) must navigate the haunted mansion of the late Zachary Graves to recover the three pieces of an urn.The game was one of the first home video games to feature scrolling graphics and a multi- level playing field, and has identified as one of the earliest examples of survival horror genre by a GameSpy article.
Ad blocker interference detected!
Wikia is a free-to-use site that makes money from advertising. We have a modified experience for viewers using ad blockers

Wikia is not accessible if you've made further modifications. Remove the custom ad blocker rule(s) and the page will load as expected.