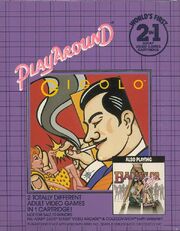 Gigolo is a game for the Atari 2600. In it, you control a naked woman who breaks into houses to have sex with the men inside (The nerd hoped that a woman would break into his house and do the same, but to no avail. He then comments on how he always gets unwanted visitors, but no wanted ones). A reversed version of the game called Cathouse Blues was also released. It was reviewed in the episode Atari Porn.
Ad blocker interference detected!
Wikia is a free-to-use site that makes money from advertising. We have a modified experience for viewers using ad blockers

Wikia is not accessible if you've made further modifications. Remove the custom ad blocker rule(s) and the page will load as expected.