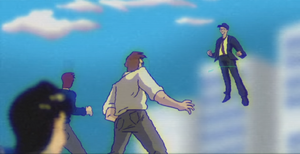 Cinemassacre Animated is a webseries consisting of short videos, roughly a minute long each. Featuring audio segments from other Cinemassacre shows set to lively animations, the videos are done by different animators and are hosted on the Cinemassacre YouTube channel. The series began in late 2016, and since then new animations have been released roughly once every month to two months. In the video descriptions, Mike invites anyone interested in animating a segment to contact him via e-mail.
Episodes
Ad blocker interference detected!
Wikia is a free-to-use site that makes money from advertising. We have a modified experience for viewers using ad blockers

Wikia is not accessible if you've made further modifications. Remove the custom ad blocker rule(s) and the page will load as expected.