The Atari Flashback series is dedicated video game consoles marketed by Atari Inc. in 2004, 2005, and 2010, then AtGames in 2011 and 2012. They are preprogrammed with classic Atari 2600 and 7800 console games from the 1970s and 1980s built in, and do not use ROM Cartridges. The Systems are powered by an AC Adapter (included), come with a pair of joystick controllers and use standard composite video and monaural audio RCA plugs to connect to a television.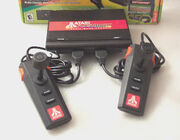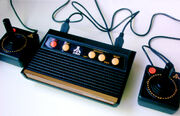 Ad blocker interference detected!
Wikia is a free-to-use site that makes money from advertising. We have a modified experience for viewers using ad blockers

Wikia is not accessible if you've made further modifications. Remove the custom ad blocker rule(s) and the page will load as expected.