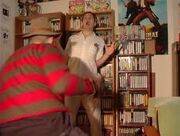 A Nightmare on Elm Street
is the 13th episode of
The Angry Video Game Nerd (series)
. It aired on Oct 31, 2006 and is 13 minutes and 27 seconds long. Both the Nerd and
Mike Matei
assume the role of Freddy Krueger as body double and voice respectively. The review was featured on the second disc of Never Sleep Again: The Elm Street Legacy.
In the ScrewAttack.com and Cinemassacre.com versions, this video features an alternate opening and ending, and also features the song "Welcome to My Nightmare" by Alice Cooper over the end credits.
The YouTube version uses the "Vampire Killer" theme from Castlevania at the end credits.
Plot
The Nerd gets tied up by controllers possessed by Freddy Krueger. He is forced to play the game A Nightmare on Elm Street on the NES.
Ad blocker interference detected!
Wikia is a free-to-use site that makes money from advertising. We have a modified experience for viewers using ad blockers

Wikia is not accessible if you've made further modifications. Remove the custom ad blocker rule(s) and the page will load as expected.